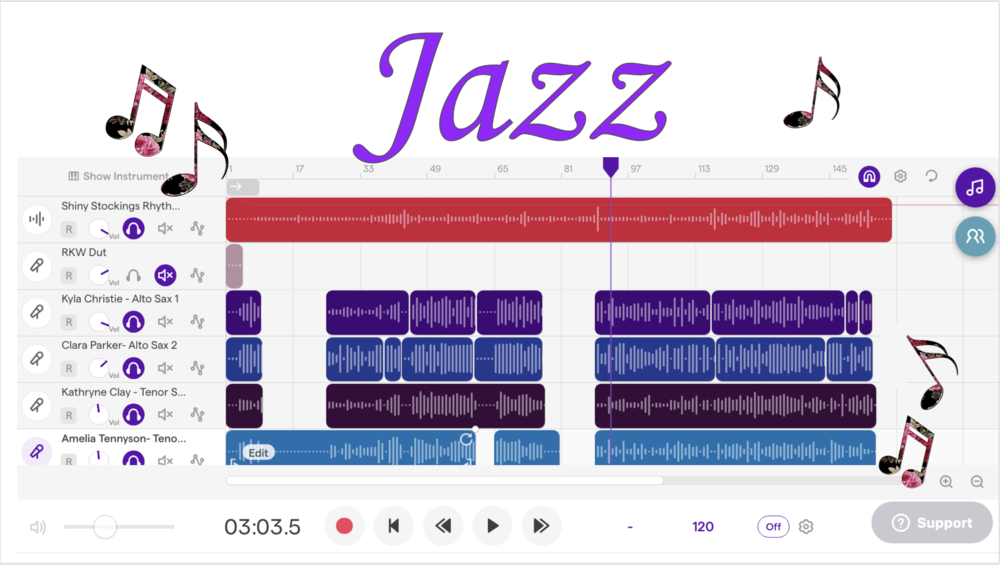 Listen to "Shiny Stockings" by the Concert Jazz Ensemble: 100% remote
Ginger Raspiller
Friday, February 12, 2021
Listen to the first FULLY REMOTE recording by the CEHS Concert Jazz Ensemble: Shiny Stockings. This project started with the students receiving sheet music and recordings of the song. Well, that's not quite true... this project started with the students/staff/admin believing in a vision that the jazz program at Cape could continue through this pandemic! For that, I am grateful.
After a few remote rehearsals, we recorded the rhythm section (socially distanced/masked) in the band room at CEHS. I ran the control board from my house and coached via zoom with the help of A.G. Gillis (who is a tremendous help!) in the room.
Once the rhythm section track was laid down and mixed, I uploaded it to the recording software (SoundTrap) that we use and created individual projects for the sections (brass and saxes). Students then recorded themselves playing their parts along with the rhythm section. Once that was complete, I removed the rhythm section track from each project, mixed all the parts into three main sections and finally mixed those into one final track!
The resilience and commitment that these students show is a wonderful quality in our students here at Cape Elizabeth High School. We have never rehearsed in person and have only truly interacted through Zoom and email communications. I am extremely proud of these students!
~Rob Wheeler, CEHS Music