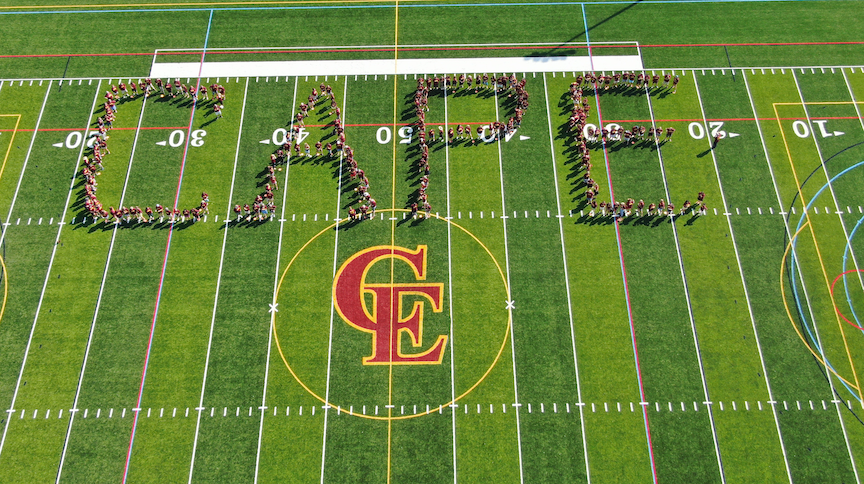 The purpose of a workshop meeting is primarily for council dialogue. There will be two items on the April 11 council agenda from the school board; School Revolving Renovation Fund (SRRF) Bond Order and School Construction Bond Order.
Memos and supplemental materials from Finance Director John Quartararo that will appear on the April 11 agenda are also posted for this workshop to provide an opportunity to review the school board's request in advance of April 11.
Building Project Public Forum Meeting - March 7, 2022
View the latest video of the Building Oversight Committee/Sub Committees:
Cape Elizabeth has some of the best students and staff in the state and we want school buildings that match this excellence.
The Cape Elizabeth Town Council & the School Board have selected Colby Co. Engineering and Simons Architects (CCE/SA) to put together a Concept Design for a new Pond Cove and Middle School building.
DID YOU KNOW? The oldest part of the building that houses the current Pond Cove and CE Middle School was built in the 1930's!
CCE/SA have been working with the Cape Elizabeth School Department and School Board since 2017 - and after years of work; discussions; tours of the buildings; meetings with teachers, administrators, and faculty; and considerations - they believe that building new schools is the best approach to this project.
Right now, we are aiming for a bond vote in November 2022. There's a lot of work that needs to be done between now and then - including deciding on the best site for the new school (somewhere on the existing school campus); completing a Concept Design; determining the final bond amount; and convincing the community that new schools are necessary for our town.
Frequently Asked Questions
Why/when did we first start talking about doing work at Cape schools?
A: In the fall of 2017, Colby Co. Engineering and Simons Architects (CCE/SA) were hired to study the Cape Elizabeth School buildings and assess their remaining lifespan. When they realized that school security and the shared cafetorium between Pond Cove and the Middle School were some of the biggest issues - they were asked to look into that and prepare cost estimates to fix it. From there, CCE/SA recommended a Needs Assessment for all three school buildings. The Needs Assessment was completed in October of 2019. Through the fall of 2019 - winter 2020, several meetings were held to discuss build out options and estimated costs. Eventually, the School Building Committee voted on recommending a replacement of Pond Cove and the middle school and renovation of the high school to the school board. In January of 2021, an RFQ was released for Schematic Design Services. CCE/SA was interviewed and selected for the job. That brings us to today - as the architecture and engineering team work on their concept design, we will need to pass a bond in order to pay for the school project.
Why can't we just renovate and fix the issues?
A: This is an option that has been discussed and reviewed at length. The simple answer is, the buildings have lived out their lives already.
Most buildings have about a 60-year lifespan. With the proper care, maintenance, and upgrades, the buildings will sufficiently last for that long. Pond Cove and the Middle School are both nearing the end of that cycle, and even major renovations would not add that much longevity to the buildings. New schools will also allow for modern-day upgrades (please click here to view a presentation on what a modern school looks like), including efficient HVAC systems, more secure buildings, and also an opportunity to build the kind of spaces that the district needs to best serve its students.
Why would I support this project even if I don't have children or grandchildren attending Cape Schools?
A: To help answer this question, our Superintendent asked his parents for advice. They are approaching 80 years old and live in a nice home on a fixed-income in Saco. They moved there from Wilton about 10 years ago. He recently asked them why they continue to support the school budget and school projects in Saco even though they have no children or grandchildren that attend Saco schools. He found their answers to be profound and inspiring and hope they provide everyone a little motivation to at least consider supporting an investment in modern schools in Cape. They shared the following reasons for supporting the Saco schools:
Supporting schools is an essential part of citizenship

Supporting schools leads to higher quality education and educators

Supporting schools boosts community spirit and togetherness

Supporting schools increases pride in the community

Supporting schools exemplifies pursuing excellence in everything the community does

Supporting schools demonstrates to children that they are valued by adults

Supporting schools shows respect and appreciation for citizens that supported schools when they had young children in the past

Supporting schools raises the property value of homes for future resale (likely well above any tax increase)

Supporting schools is a sound investment for the future of all children as the leaders of tomorrow
What does a 21st century school look like?
We invite you to scroll through this presentation to see what 21st century schools look like in communities around us and further invite you to imagine our current Cape students and staff and students, and staff of the future in these enriching learning environments. This is a 50+ year investment in teaching and learning that many of our neighboring communities have made recently. Please review this link to see even more samples (we do not have our design yet) of modern schools.
What will this project mean for my taxes?
A: Estimated tax impact provided by Town Manager Matt Sturgis.
It shows an estimated impact for an $80 million bond on tax rate on a $400,000 home for both a 20 and 30 year bond.
What will this project mean for the town bond rating?
A: Conversations with Joseph Cuetara, our Bond Advisor from Moors and Cabot, have indicated that issuance of such a bond would not impact our current rating. His experience most recently with bond issuances in Auburn, South Portland, and other communities for school facility bonds have shown no change as a result.
Can Cape Elizabeth apply for any state funding for any portion of this project?
A: This is another portion of this project that we have looked into at length. While the state does provide funding for school facilities and construction, it is a lengthy process. You can read more about that process on the Maine DOE website, but in short, the state has not accepted new applicants since 2017-2018. There are 74 applicants on the list from that cycle that were considered high priority for the state. At this time, there is no word on when the state will open the process again for new applicants.
What is the timeline for the project?
A: If the bond vote passes in June of 2022, CCE/SA will immediately begin the design process for the school. That should be wrapped up in February of 2023. From there, the project will go to bid - an interview process that should take about a month. We anticipate selecting a firm and breaking ground in April or May of 2023 - with the project complete and ready for the beginning of the 2025-2026 school year.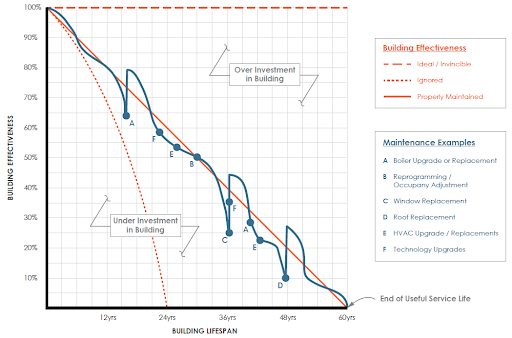 This graphic helps illustrate the typical lifespan of a typical building. For most buildings, that's about 60-years. Pond Cove and Cape Elizabeth Middle School are both nearing the end of that cycle - even major renovations would not add much longevity to the buildings.
HOW WE GOT HERE
Colby Co. Engineering and Simons Architects have been working with the Cape Elizabeth School Department for more than four years, trying to determine the best solution for some key issues the department had identified within the district.
It started in June of 2017, when the school department filed a Request for Qualifications (RFQ) for an Existing Facilities Study. The RFQ stated that the School Board was conducting the facilities study - and asked bidders to create a list, ranked by priority, of projects anticipated within the next five years for the existing school facilities. The RFQ requested that bidders complete a study to include all major facility improvements, including renovations, additions, or new construction, for the interior and exterior over the next five years.
Colby Co. Engineering and Simons Architects were selected to complete the study. Due to mid-year budget restrictions, then-Superintendent Howard Coulter requested that the team focus their investigative efforts on two specific projects: the Cafetorium at Pond Cove/CEMS, and security concerns at the schools.
In November of 2017, CCE/SA provided three conceptual designs to address cafetorium concerns at the schools. After talking through the options, the school board and CCE/SA agreed on one concept that felt like the most suitable option.
In April of 2018, the school board and the Town Council got together to discuss conceptual options through CCE/SA's findings.
Later that year in October, another meeting was held (under a new Superintendent - Donna Wolfrom) where the school board was brought up to date with the project history, and was also asked to continue a scope of investigations. The following month, Building Committee members and other members of the public took a tour of the high school.
By January of 2019, CCE/SA presented a Needs Assessment report to the school board. The assessment was developed from June - October of that year. After another year of discussions among the school board, the project needs were established.
In January 2021, the school department filed a new RFQ - this one requested a new concept design for Pond Cove Elementary School & Cape Elizabeth Middle School. After applying and going through a series of interviews, CCE/SA was selected in April as the firm(s) to complete the job. The school board voted to approve/recommend to the Town Council a budget for the new K-8 facilities.
Since then, the Building Oversight Committee was formed, and CCE/SA have begun their work on a concept design for the schools. It is anticipated that these designs will be complete by April of 2022 - ahead of the bond vote in June.