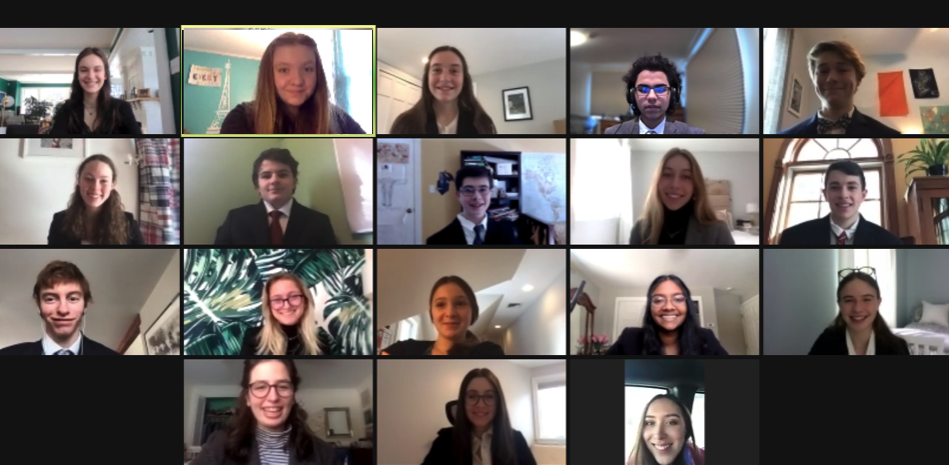 Boston XX Invitational Model United Nations
Ginger Raspiller
Sunday, February 07, 2021
From Coach Mel Oliver:
In a marathon weekend of committee sessions that wrapped up late Sunday evening, 18 Capers competed virtually in the BosMUN XX Invitational Model United Nations Conference. Eleven Cape delegates were competing for the first time - and nine of those eleven were freshmen!
As is always the case, they displayed matchless diplomacy. Nerves were running high as this was our first competition in a virtual format. Despite this,
in her very first conference, Sophia Toon won Best Position Paper for representing Finland in the UNHRC, a committee typically reserved for more experienced delegates;
in her very last conference, senior Ella Briman won Best Position Paper for representing the United States in the United Nations Security Council;
and Claire McDonald, in her first Crisis Committee, represented Jon Il-ho in the DPRK Cabinet, following the untimely death of Kim Jong-un. In typical Claire fashion, she won Best Delegate honors.
Instead of gathering in front of some random college building or some groovy sculpture to take the obligatory Delegation photo, Coach Oliver made sure to snag a Zoom group photo. "Definitely the most resilient bunch of Delegates I have worked with!"