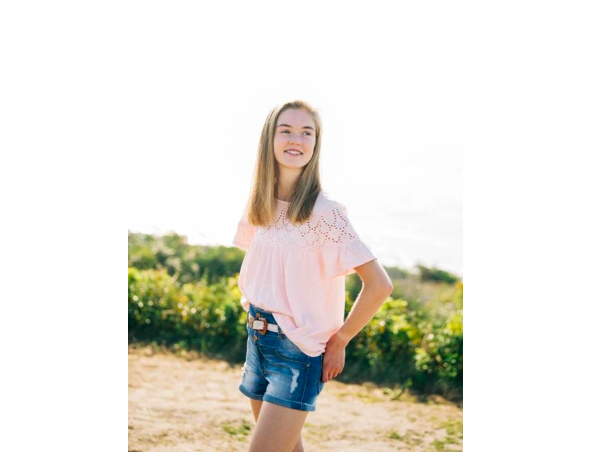 Lila Gaudrault named MOFGA Russell Libby Scholarship winner
Ginger Raspiller
Tuesday, April 27, 2021
Published in the Portland Press Herald
Each year, in conjunction with the annual Source Maine Sustainability Awards, the Maine Organic Farmers and Gardeners Association grants Russell Libby Agricultural Scholarships, one in each of three categories: high schooler, educator and MOFGA journeyperson. The scholarships, which come with $1,500 grants thanks to the generous support of Lee Auto Malls, are named for the late, beloved 17-year director of MOFGA, Russell Libby.
A single book changed Lila Gaudrault's career trajectory, as she eloquently explained in her application for a Libby scholarship. Here, we'll let her tell you:
"Advanced Placement Language and Composition is not the kind of class that one expects to be life-altering. It involves learning to write following a strict AP rubric, memorizing countless vocabulary terms, and painstakingly analyzing centuries-old texts. Yet when my English teacher assigned my class 'The Omnivore's Dilemma' as our spring reading book, I found my world turned upside down."
Gaudrault, a senior at Cape Elizabeth High School and a two-time state champion in cross-country, wrote that the book sparked a realization in her: "I'm meant to farm."
She took immediate action. She got a job at Jordan's Farm, down the street from her home, washing and packing produce, stocking shelves and working the register at the farm store. She built a raised-bed garden at a nearby community garden. And she began reading "every book on regenerative agriculture I could get my hands on," her application went on to say. "That summer (2020), days were spent going from the farm, to the garden, to the books. I was sweat-covered, dirt-stained, and exhausted. It was the happiest I'd ever been."
Since then, Gaudrault has worked at farms in Maine and Vermont through World Wide Opportunities on Organic Farms (WWOOF), applied for college programs in sustainable agriculture (she's "99 percent sure" she'll attend UMass at Amherst), and has plans to apprentice at a farm in New Hampshire this summer. "My overarching goal," she wrote, "is to open and operate a diversified, self-sustaining farm and provide my community with the food it produces."
Gaudrault describes herself as a first-generation farmer. She said her parents, both accountants, are not even green thumbs. That gives her a special perspective on her own plans to, pardon the pun, break into the field. Asked at the end of an interview if she had anything to add, she didn't hesitate.
"Coming from a family where there is no ag experience or no family traditions," Gaudrault said, "especially with farms always passed through the generations, I'd say to other people of my generation who aren't from farming families, 'You can get started in it. You can do it. You can create your own opportunities and there is so much opportunity you can find."